Current Online Cod Heating Oil Price
Attention: For your safety & in order to prevent spills, when placing a Heating Oil order, it is the customer's obligation to inspect their oil tank. When inspecting your tank look at the following is the area around the oil tank, oil lines, oil filter & valves showing signs of leaking, are the legs & foundation stable, is the tank free of rust & dents. AS per NFPA Fire Codes the tank must have a working vent alarm & tank level gauge. the vent pipe must be STEEL PIPE (NO PVC) and a minimum of 1 1/4" and free of obstructions, bugs, bugs nest, snow & ice, etc. If you see any issues with your tank, we can help. Call us at (215) 945-4833
Welcome Former Big Oak Fuel Oil Customers
JC Heating & Cooling has plenty of heating oil and we also provide repair service. Please feel free to call us.
| | | | | | | |
| --- | --- | --- | --- | --- | --- | --- |
| Gallon | 300 | 150 | 100 | 75 | 50 | 25 |
| Price | $3.589 | $3.589 | $3.589 | $4.149 | $4.629 | $6.589 |
Who Has The Lowest Heating Oil Prices Near Me?
Refer A Friend And Get $10 Off Your Next Delivery!
Your #1 Choice For Home Heating Oil In Lower Bucks County Since 1973
Your neighbors consistently choose JC Heating & Cooling for fuel delivery. That's because we have a REAL Office not a PO BOX or some internet address without a phone nunber or street address. We offer discount pricing, convenient ordering, and fast, reliable delivery.
With Our Easy Online Ordering System, Your Next Delivery Is Just A Click Away
Please allow three days for delivery. If you need an emergency delivery please call the office during normal business hours.
Our fast, reliable service is now even easier to access. Here's what you'll get when you order online with us:
COD Discount Fuel Oil Pricing
24-hour online ordering
Online payment options
Fast, courteous delivery
Our oil additives clean your fuel by reducing sediment in your oil tank
We offer Oil Burner Service & Installation
Let us show you just how easy scheduling your next delivery can be.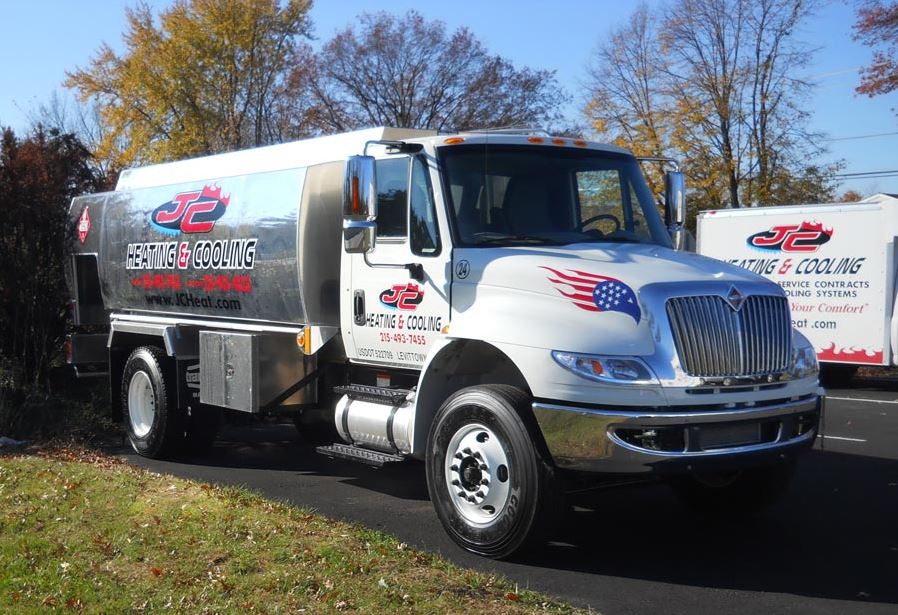 Stay Warm, Pay Less
Get premium heating oil with special additives without sacrificing savings! We work hard to keep your home warm all winter long, at the lowest price possible. With our online system, it's easy to order, and easy to save. Take advantage of our special offers and our everyday low price on quality heating oil today. Let us fill your tank without draining your wallet! Ready to pay less for your heating oil? Find out today's low price below.
Competitive Heating Oil Prices
How can JC Heating & Cooling provide such great Cod oil pricing to our customers? It is easy. We own a Million Gallon Fuel Oil Storage Depot. We can bypass the middleman and buy oil cheaper then most oil dealers. You take on the management of ordering your home heating oil online when needed and pay at the time you place your order. By unbundling traditional services such as ( Phone Orders, Automatic Delivery, Extended Credit, Services Agreements, Priority 24 Hour Repair Service.) This eliminates some of our expenses. Resulting in JC Heating & Cooling passing the savings directly on to you!
We sell low sulfur heating oil that burns cleaner than regular heating oil.
Low Sulfur Heating Oil Cuts Down On Global Warming Green House Gases

Easy Online Ordering System
(Oil Prices are updated daily)
Prices are locked in for next delivery day.
Call and place your order today, you choose the type of service & quantity of fuel oil you need @ JC Heating & Cooling
No Contracts needed to purchase Cod Cash Oil or use a Credit Card. Order only the heating oil you need - when you need it. With automatic delivery you'll never run out of heating oil again.
Reliable Deliveries
Our truck meters are inspected and calibrated by Bucks County Weights & Measure. Unlike Most COD Companies, we have our own Service Department. We offer oil burners service, tune ups, oil burner cleanings, oil tank repairs and replacements. You can pay online with a debit or credit card.
For safety reasons once an order is placed it can not be cancelled. Once an order is placed, our automated system immediately dispatches your order. In the event that your fuel oil tank is filled by another company, and we attempt a delivery, it could result in an accidental oil spill.
If you take less oil then ordered, monies are non-refundable. Credits may be used toward next fuel oil delivery or oil burner service.
Our pricing schedule contains volume discounts, so larger heating oil deliveries receive lower prices. If you take less then you order, a short delivery fee of $15.00 applies.