Ultraguard Fuel Oil Additives
JC Heating sells quality home Low Sulfur heating oil with UltraGuard special additives to cut down on service calls.
Benfits of Lower Sulfur Content
Less Pollution. Lowering the sulfur content of heating oil to 15 ppp drastically reduces the amount of emissions and air pollution, Reduces Heating Oil Odors, Great Fuel Savings at No Added Cost.
Why catalytically cracked fuel forms sludge more quickly. Although new cracking technology helps refiners match supply to demand (more gasoline in the summer, more heating oil in the winter, and more of both anytime), it produces a less stable product.
About half of all unscheduled service calls are related to sludge in the fuel. This costs our industry and customers financially.
Catalytic cracking isn't going away -- it has too many advantages. But to give our customers a reliable product-the kind of product they expect from us - it must be stabilized with a high quality additive.
How To Stop Fuel Related Service Calls
Problems
Today's catalytically cracked heating oil generates solids at an accelerated rate causing a significant increase in fuel related service calls compared to straight run fuels of years past. Microbial life, oxidation, water, changes in our distribution channels and other refinery changes also contribute to this rapid accumulation of gummy "black stuff" in today's heating oil. This chemical activity is called repolymerization. It also contributes to poor combustion, excess soot, and smoke. Water and microbial life also promotes internal tank corrosion and rust.
Objectives:
UltraGuard fuel additive allows your system to run smoothly by keeping fuel nozzles clean and preventing gums and tars from collecting in your fuel lines.
Reduce service calls therefore lowering operation cost.
Reduces fuel consumption.
Stabilizes fuel.
Reduces smoke, particle emission and burns cleaner.
Reduces rust and internal oil tank corrosion.
Cleans nozzles and filters
Increase our customer satisfaction through improved reliability and performance.
Improved combustion of the fuel for a more complete burn.
Oil burns cleaner and hotter
Up to 4% increase in combustion efficiency and FUEL SAVINGS.
Detergent to provide cleanliness through out the entire fuel system.
Significant reductions in soot build up and heat robbing deposits.
Provides corrosion inhibitor.
Prevent internal tank corrosion.
Prevent the growth of bacteria.
Help your heater burn cleaner and more efficiently, which in the long run will save you money.
Cleans and lubricates fuel oil pumps.
Solution:
JC Heating offers a heating oil treatment ULTRAGUARD- at no extra charge - that reduces the need for unscheduled heating service calls. Our additive works by stabilizing heating oil chemistry and preventing fuel oxidation, corrosion and sludge build-up. It's one more way we try harder to serve you better.
Winter Additives - To add you winter additive to your delivery, simply ask our represntive at the time of delivery
Totally disperses water and controls waxing and gelling.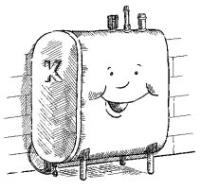 There is always water in fuel oil, but some people play down the existence of water and the problems it can create. Oil pumped from a cold delivery truck's tank into a warm basement tank causes condensation. Also, water can enter a tank when it is being filled during a humid day or rain storm. When water interfaces with fuel oil, algae is produced in the form of sludge. Water pulls the gum from the fuel oil which builds up on the burner parts as varnish. Filters are meant to get rid of dirt not water. That leaves the water for you to contend with.
Prevent winter time freeze up and no heat calls from outdoor oil tanks:
Dispersing water.
Getting rid of sludge.
Improving combustion and reducing soot.
Preventing waxing and gelling.
Prevents icing in heating oil (which is often created during the condensation process) from freezing.
All of our staff members are friendly and courteous, ready to assist you when you call. We go above and beyond to ensure all your fuel needs are met. Your patronage is important to us, and we treat you with the respect you deserve.
JC Heating is committed to providing our customers with the highest quality heating oil and services.
48 Years of Experience CALL US TODAY - (215) 945-4833
We're proud to provide Heating Oil & Burner to service all of Lower Bucks County and Montgomery County, PA: and surrounding areas near me.
Andalusia
Bensalem
Bristol
Buckingham
Chalfont
Churchville
Cornwells Heights
Croydon
Doylestown
Eddington
Edgely
Fairless Hills
Fallsington
Feasterville
Feasterville
Furlong
Holland
Hulmeville
Ivyland
Jamison
Langhorne
Levittown
Lower Makefield
Middletown
Morrisville
New Hope
Newtown
Northampton
Oakford
Parkland
Pennde
Penns Park
Pineville
Richboro
Southampton
Trevose
Tullytown
Upper Makefield
Warminster
Washington Crossing
Wrightstown
Wycombe
Yardley