JC Heating & Cooling Private Heating Oil Depot Storage Facility
Immediate access to fuel is important. We Offer Emergency Home Heating Oil Deliveries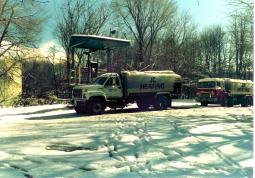 To be a reliable home heating oil dealer, you need immediate access to your fuel oil. JC Heating & Cooling owns and maintains our own private heating oil depot, which can hold a million gallons of fuel oil in Yardley, Pa. As a JC Heating & Cooling oil customer, you will benefit knowing that we also have your fuel oil in our tank no matter what the weather brings.
We always have our own Heating oil, in the unlikely event of a supply interruption. JC Heating & Cooling customers would continue to get oil.
During the winter of 2013 -2014 when the delaware river froze many oil dealers were left without a reliable supply of oil. Some oil dealers ration their customers supply, others had no supply at all. JC Heating & Cooling oil customers had access to a steady supply of oil because we had pre-purchased oil and stored it in our own storage facility.
We have all of the company resources required to ensure that we never run out of oil, reliable automatic delivery service so you never miss a fill and around the clock service so you always get your heating oil delivered, even through the toughest winter weather.
Our Low sulfur heating oil burns cleaner than regular heating oil, saving you money in service calls.
We treat our oil with a special additive, so you can rest assured that you're always receiving high quality heating oil.
Our Oil Depot is near our office, and within 15 miles of all of our customers, so we can always deliver promptly and economically.
A great supplier maintains their own supply of heating oil so that they have uncompromised access to fuel at all times. By having our own storage, we can bypass the middle man and pass the savings on to you. Call our office today, to become a new customer @ (215) 945-4833. Our professionals are extremely prompt and reliable. If you need a delivery, give us a call and we'll be right there.
When Ice & Snow Arrive....You Be Glad You Did
In addition JC Heating & Cooling offers:
24/7 emergency service for our service agreement customers
Money saving service agreements
Our phone are answer live 24 hours a day
Fair and competitive top quality heating oil prices
Easy Pay Budget Oil Payment Options
Highly trained local service technicians
Oil burner tune up's and cleanings
Service and equipment installations
We have a team of certified drivers trained in oil delivery
We are local. We are a part of your community. We have one location, owner operated in Levittown Pa.
We sell low sulfur heating oil burns cleaner than regular heating oil. Low Sulfur Heating Oil Cuts Down On Global Warming Green House Gases.