48 Years of Experience! Call us Today! (215) 945-4833 EMERGENCY SERVICE
Fuel Oil Tank Removal - Fuel Oil Tank Installations - Fuel Oil Tank Repairs
Soil Remediation in Bucks County & Montgomery County, Pa.
The answer to. What if my heating oil tank leaks? The Environmentally Friendly Fuel Oil Tank
Roth Double Wall Fuel Oil Storage Tank
Full secondary steel containment of primary oil tank.
ROTH 30 YEAR LIMITED WARRANTY
10 Year Leak Protection warranty. See manufactures warranty for details
2 Million Dollar Clean-Up Insurance. See manufactures warranty for details
Absolutely leak proof, corrosion & shock resistance.
Highly visible leak alarm.
Tank Capacity 165 Gallons, 275 Gallons, 400 Gallon
Meets and exceeds Environmental Protection Agency requirements.
Designed for individual or multiple tank installations.
UL Listed - Meets NFPA fire standards.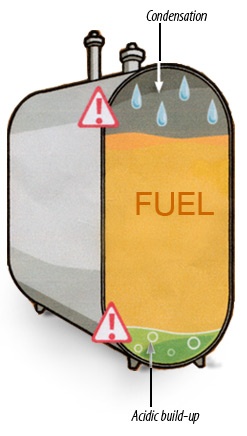 Nearly all fuel oil storage tanks rust from the inside out. Moist air condenses inside your heating oil storage tank, contributing to water and a sludge that accumulates at the bottom. This can lead to internal rust or corrosion, which can cause leaking. Outdoor fuel oil storage tanks are even more prone to condensation due to daily temperature changes.
The Roth Fuel Oil Tanks have a blow molded seamless inner tank of high-density polyethylene, which is absolutely leak proof and corrosion & rust resistant. The outer tank is made of galvanized steel, lock seamed and sealed with an oil and fire resistant steel. The outer tank protects the inner tank and offers secondary containment should the inner tank fail and leak.
Heating Oil Tank removal and replacement:
Protect your home today and replace your oil tank with a new double wall tank. A double wall tank provides that extra protection needed to keep your oil storage safe. Replacement of your oil tank can be done stress free by our licensed oil technicians. Most tanks can be removed and replaced on the same day, at no inconvenience to you.
Heating Oil Tank Inspections:
A heating oil tank inspection will ensure that your heating system is in good operating order and ensure that the systems and products that make up your oil heating system will be compliant with current insurance requirements. Safety is our first priority, so schedule your fuel oil tank inspection today.
JC Heating provides Automatic delivery that assures that you never run out of Oil heat - resulting in uninterrupted comfort all year long!
Oil Tank Inspections.
Roth Heating Oil Tanks can be located in the garage, basement or outdoors next to the home.
If your fuel oil tank is nearing 20 years, it may be time to replace.
We are a Roth Tank Certified Installer
Roth oil tanks can be installed both outdoor and in basements.
With more than 48 years in business, we have developed long-lasting relationships with all of our customers. We know them, and they know us. Join our family!
Visit our show room & see the Roth Fuel Oil Tank on display.
Heating Oil Tank Sales & Installations (215) 945-4833
We Accept Visa, Mastercard, and Discover Credit Cards
Installation Quotes are All Ways Free! Financing is Available
For over 48 years we're proud to provide heating oil tank tubs and containment, sales, installation and service the following communities in Bucks County & Montgomery County, PA:
Andalusia
Bensalem
Bristol
Buckingham
Chalfont
Churchville
Cornwells Heights
Croydon
Doylestown
Eddington
Edgely
Fairless Hills
Fallsington
Feasterville
Feasterville
Furlong
Holland
Hulmeville
Ivyland
Jamison
Langhorne
Levittown
Lower Makefield
Middletown
Morrisville
New Hope
Newtown
Northampton
Oakford
Parkland
Pennde
Penns Park
Pineville
Richboro
Southampton
Trevose
Tullytown
Upper Makefield
Warminster
Washington Crossing
Wrightstown
Wycombe
Yardley