Oil Heat Versus Natural Gas
Did you know that, when compared to natural gas, Oil heat has been a better value for 10 of the past 11 years? Oil heat equipment offers you the best in fuel economy, safety, cleanliness, and performance. However, did you know that new Oil heat equipment on average has an efficiency advantage over that of gas by approximately 16%, according to the U.S. Department of Energy?
That means a new, quiet, high performance Beckett oil burner provides incomparable value for your heating dollar!

Oil Heat is Efficient-The US Department of Energy reports that new oil heating equipment operates at an average of 85% to 88% efficiency. Some oil boilers reach over 90% efficiency.
Oil Heat is Safe: Heating oil is safe and must be vaporized in order to ignite. A lit match would go out if it were dropped into a pool of heating oil.
Heating oil is non-explosive and ignites only by an advanced burning system within your oil-burner or furnace.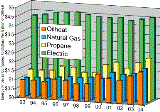 Heating Oil Doesn't Explode.
Most of us have heard of dangers of carbon monoxide poisoning from natural gas appliances and heating systems. Carbon monoxide is an odorless, tasteless and colorless gas that is poisonous if inhaled for an extended period of time. However, a properly-serviced, well running Oil heat system provides little or no risk of emitting poisonous levels of carbon monoxide.
Oil heat is clean: Today's heating oil is 95% cleaner than it was in 1970, and today's burner emission rates are approaching near-zero levels!* Low-sulfur fuel oil products and biofuels, such as those made from soybeans, will further reduce the already near-zero emissions. *Source: USEPA, BNL Report 52249
It's cost efficient: Oil consumers receive up to 30 percent more for their heating dollar than natural gas or electricity customers.
Oil heat is dependable: You can count on JC Heating & Cooling -- even on the coldest day.
Oil Heat is easy to pay for: Oil heat bills are easy to understand. Gas bills contain "mystery" costs, such as basic meter rental charges, taxes and warm weather adjustments.
Yes Heating Oil is Good For The Environment! Low Sulfur Heating Oil Blended with only 2% Bio Fuel Burns Cleaner Than Natural Gas. Greenhouse gas emissions decrease as the biofuel blend increases.
Low Sulfur Bio - Heat Heating Oil Burns Cleaner Than Natural Gas From JC Heating & Cooling. Heating Oil Burns 400 Degrees Hotter then Natural Gas
UPGRADE AND SAVE WITH CLEAN, RENEWABLE OIL HEAT
Upgrading to higher-efficiency Oil heat equipment can reduce usage by as much as 30-40 percent.
Upgrading your current heating system costs thousands of dollars less than switching to natural gas.
Same-fuel upgrades can usually be completed in one day, using one company for all the work.
Rebates, tax credits and low-cost financing may be available to reduce the cost to upgrade your heating equipment.

CLEAN AND EFFICIENT OIL
At JC Heating & Cooling located in Bucks County, Pa, we know our fuel oil. Not only is it clean and modern, but it's also extremely efficient. Take it from the experts, we can provide helpful tips to save you money on your next energy bill or oil delivery.
With JC Heating & Cooling you get direct, personalized service.
At JC Heating & Cooling, we know your heating system and you can count on us. To Find Out More, Give Us A Call
Yardley Pa 19067 - 215-493-7455 Levittown Pa 19054 - (215) 945-4833