Fuel Oil, Home Heating Oil Sales & Service
Welcome to JC Heating & Cooling. We are Family Owned, Operated, and Local
Worry Free Home Heating Oil Delivery is Automatic with JC Heating & Cooling
The best way to make sure you don't run out of heating oil is to sign up for Our Free Automatic Delivery Plan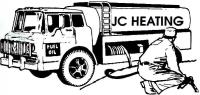 What is Automatic Oil Delivery?
Customers with Automatic Oil Delivery are not responsible for monitoring their tank or notifying us when they are low. Heating oil deliveries will be made according to a schedule set by JC Heating & Cooling. We are responsible for making timely deliveries based on the size of your home, the size of your oil tank, your estimated consumption and the day-to-day weather conditions. That means no more worries about measuring your tank or running low on fuel.
You don't have to be home when deliveries are made.
You don't have to pay on time of delivery.
You don't have to keep track of the amount of heating oil you use.
Never run out of fuel oil again.
Important: Use of alternative heat sources such as wood, pellet stoves or a heat pump adversely affect our ability to accurately forecast your deliveries. If you have an alternate fuel source it is important that you notify us if your oil level falls below ¼ tank.
Cancelling automatic delivery is only accepted in written form. If you are an automatic delivery customer who needs to cancel your automatic delivery, please be sure to send your written cancellation to our Customer Service Department at 181 Fallsington - Tullytown Rd. Levittown Pa. 19054. If you mail us your cancellation, please call us at 215-945-4833 to confirm that we have received it. Note: We cannot cancel automatic delivery under any circumstances without written confirmation from the account holder.
With a full fleet of oil trucks, we're in your neighborhood all the time.
How Will JC Heating & Cooling Know When I Need An Oil Delivery?
JC Heating & Cooling will use "degree day" technology and estimates based on your tank size and past consumption to schedule regular refills. They even take the weather into account when severe winter weather is forecast to make sure you will not run out. In the rare event that you do run out of oil, on-call service men will guarantee a fast fuel delivery and re-start your system on the spot.
What is Will-Call Oil Delivery?

Some customers want to monitor their own consumption and schedule their delivers accordingly. You most notify us 48 to 72 hours before you will need a delivery. Customers are urged to order their oil when the gauge reads no less than 1/4 of a tank. Oilheat dealers are not responsible for "run-outs" resulting from customers who fail to give the required three day notice.
What is C.O.D. (Cash On Delivery)?
Some Customers choose to pay for their deliveries as they receive them. You must be home when a delivery is made and pay cash or credit card for that delivery. Some Oil heat dealers will not accept personal checks for C.O.D. deliveries. If you do not have payment at the time of the delivery, the delivery will not be made.
We provide the following
Oil Burner Service & Repairs
Oil Burner Tune Up & Cleanings
Chimney Cleaning & Repairs
Emergency Service Repairs
Emergency Heating Oil Delivery
Heating Oil Tank Repairs and Replacements
Very Low Sulfur Content
Not only do we offer competitive pricing on heating oil, we also offer the highest possible quality. Our heating oil has extremely low sulfur content. This low-sulfur fuel can reduce the level of maintenance needed for heating oil equipment and storage tanks. It can also reduce sooting and scaling, which increases the heating efficiency. Of course, this lower sulfure content reduces air pollution and is safe to use with all existing heating equipment.
Reliable Deliveries
All of our Oil Fuel trucks are equipped with GPS to ensure that our deliveries are on-time and accurate. We deliver in all types of weather, including rain and snow. And all of our heating oil delivering equipment is calibrated annually by the state of Pennsylvania, so you can trust that you're getting an accurate amount of fuel every time you heat your home with Oil
Best of all, automatic heating oil delivery is FREE. We don't charge for the service because it helps us, too, since it prevents emergency deliveries that can disrupt our schedules.

Call (215) 945-4833 for an Fuel Oil Delivery
We look forward to having the opportunity to serve you. If you have any questions or comments, please do not hesitate to contact us.
We're proud to deliver heating oil & oil burner service to the following communities in Bucks County, PA:
Andalusia
Bensalem
Bristol
Buckingham
Chalfont
Churchville
Cornwells Heights
Croydon
Doylestown
Eddington
Edgely
Fairless Hills
Fallsington
Feasterville
Feasterville
Furlong
Holland
Hulmeville
Ivyland
Jamison
Langhorne
Levittown
Lower Makefield
Middletown
Morrisville
New Hope
Newtown
Northampton
Oakford
Parkland
Pennde
Penns Park
Pineville
Richboro
Southampton
Trevose
Tullytown
Upper Makefield
Warminster
Washington Crossing
Wrightstown
Wycombe
Yardley